New Year's Eve was certainly an event! Mariah's 2 cousins - Mary & Megan - spent the night and the girls had a ball. They watched movies, ate munchies, and helped Uncle Rich put a puzzle together. This morning after breakfast their mom came and picked them up. Since we're going to be moving, hopefully sooner than later, we want the girls to spend as much time together as possible.
Today starts the new Stitcher's Blog Hop. Our first question is:
What was your biggest stitching accomplishment in 2012?
What was your favorite stash acquisition in 2012 and will you be using it in 2013?
My biggest accomplishment for 2012 was a model that I stitched for X's & Oh's. 'Santa's House' was huge & took me a good 6 months to do. I actually had to go buy the largest hoop that I could find to work on it because none of my qsnaps or scroll frames were big enough to hold it!
My favorite stash acquisition in 2012 was a couple of charts that I have been drooling over forever. I was lucky enough to receive 2 charts from my wish list - The Drawn Thread's 'Sanctuary' & Lavendar & Lace's 'Enchanted Alphabet'. Both were kitted up and sent to me as part of exchanges and I am VERY grateful! I'm hoping to have time to get both of them stitched this year!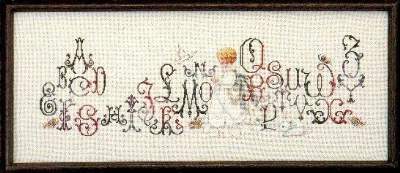 Visit all the blogs in this round of the <a href="http://www.stitchingthenightaway.com" target="_blank">Stitching the Night Away</a> Stitching Blogger Blog Hop: <script type="text/javascript" src="http://www.simply-linked.com/listwidget.aspx?l=bf492ff8-aa6d-433f-ba97-063735d9f120" ></script><br />Find the instructions on how to participate in this round by <a href="http://www.stitchingthenightaway.com/4002/stitching-bloggers-14-looking-back-on-2012/" target="_blank">clicking here</a>.